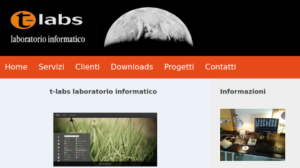 Con un focus privilegiato sulla sicurezza informatica e sulle tecnologie Open Source, da anni t-labs riesce a servire clienti di grande impegno (scuole pubbliche, aziende private ed a partecipazione pubblica, fino a nomi prestigiosi quali il Consiglio Nazionale delle Ricerche o la Port Authority di Pisa) come anche studi professionali o semplici clienti privati.
Dove necessario, l'attività più strettamente ICT viene affiancata da attività di formazione, specialmente in tema di sicurezza del trattamento dati o di consulenza in vari settori tecnologici.

t-labs s.n.c. di Bianchi S. & Testa E.
Via Pacinotti 2 Cecina (LI)
P.I. 01766580490
Telefono – Whatsapp – Telegram – Signal: 327 9977018
E-mail: tlabs@tlabs.info
TangerineTech Brand, Marks and Imagery © 2007 and later by Simone Bianchi.
Music, Materials and Technologies used courtesy by their Authors. News sources are copyrighted by their Owners. Tested on all major browsers. This website uses no cookies and stores no user data.
Website © 2008 and later Simone Bianchi.